Fantagraphics Digital Marketing
Content that stands out from the crowd

Fantagraphics is an independent publisher of both print and digital content. Fantagraphics has stood out from the crowded comics field for over 40 years, and prides itself on introducing readers to bold new stories, styles, and perspectives that push the boundaries of the medium.
Because Fantagraphics publishes such a wide range of comics/graphic novels and pop culture content, our strategy for designing marketing graphics has remained fluid. The artists and the work they create take center stage, and the design for web banners, mailchimp graphics, and social media graphics take aesthetic cues from the work we publish. This results in a wide range of content that is illustration-forward and always eye catching.
In my role at Fantagraphics as a senior designer, one of my jobs is to create these marketing campaigns for store and community events as well as campaigns to accompany the books I design. This is a small selection of the many campaigns I have created over the years.
My role
Social media graphics
Mailchimp emails
Software used
Adobe Illustrator
Adobe Photoshop
Mailchimp
Adobe XD
Adobe After Effects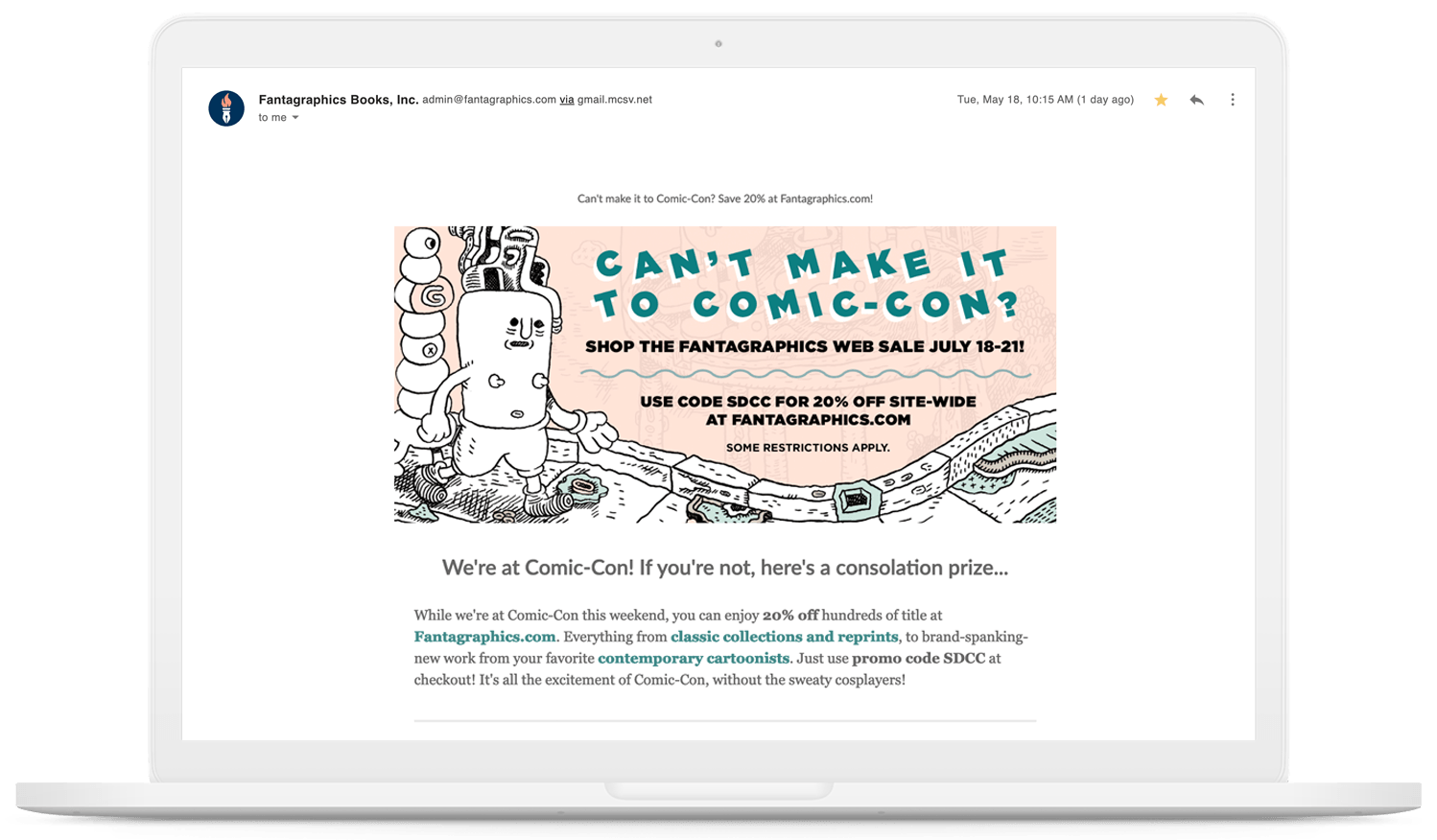 Comic-Con
Each year, Fantagraphics has a booth at the hugely popular San Diego Comic-Con. One of our biggest sales is the Can't Make it to Comic-Con promotion, which generates significant sale numbers for the summer season. For this campaign, I chose to showcase art by indie illustration darling Daria Tessler. The pale peach and aqua are the colors of summer fun, and add a retro pop feel to the graphics.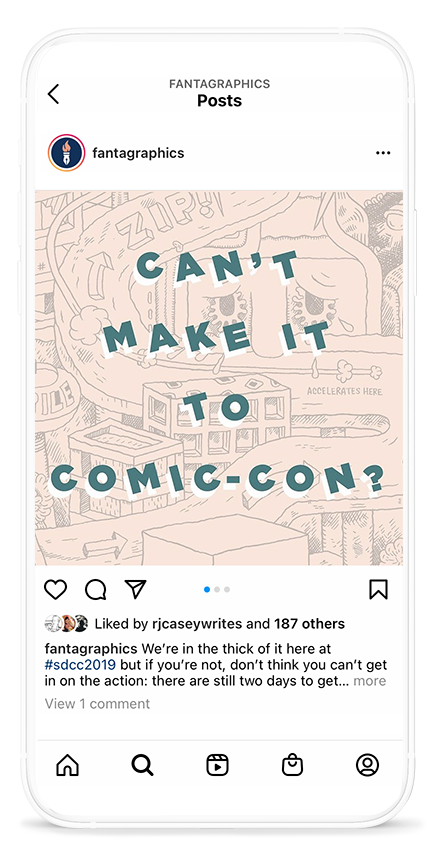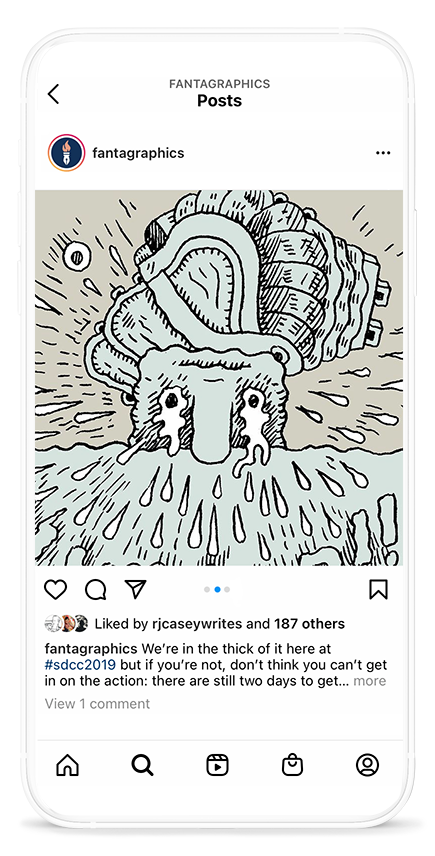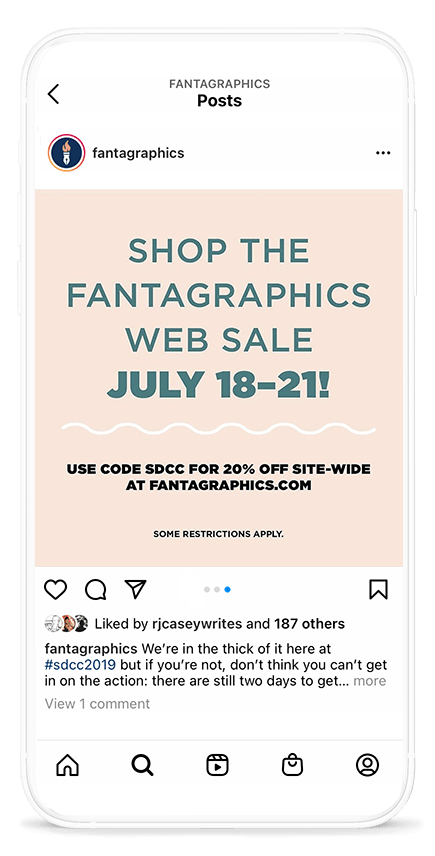 Angola Janga
Animated promotional videos are a great way to promote books on social media. I designed both the book itself and the trailer to promote it on Instagram and Facebook.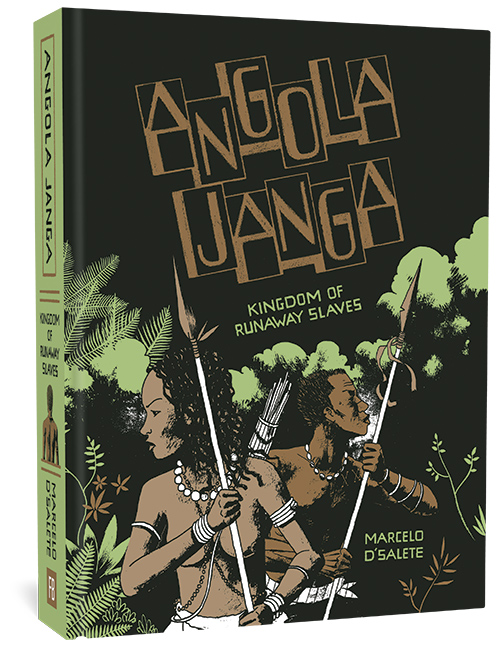 "Since the mid-1970s, Fantagraphics has published a large and varied line, with new works and classic reprints, and has fought to establish comic books as a form of high art." —The New York Times
Banned Books Week
Banned Books Week is an annual event celebrating the freedom to read. From day one, Fantagraphics has published content that challenges the status quo and given a platform to those who may not be heard otherwise. To celebrate this important week, each year Fantagraphics discounts titles by artists who push those boundaries.